What is the Land?
At the epicenter of the UNESCO Kruger-to-Canyons Biosphere, this critical wilderness borders the greater Kruger National Park, and spans the arterial river that serves the region. What happens here impacts the entire ecosystem. This 7413 acres of wildlands is at immediate risk of high impact, chemically driven, industrialized farming and township development.
Why This Land?
This area was declared a Sacred Natural Site hundreds of years before Kruger was proclaimed a national park. The White Lions are site specific, yet commercial trophy hunting takes place on the borders of their Heartlands, risking the continuity of this critically rare species. Strategically, the land for acquisition secures neighboring territory for future generations of White Lions, free of trophy hunting.
When Must It Be Acquired?
For immediate and critically urgent acquisition. The expansion of the White Lion territories will allow for our young pride males to take up their governance to ensure the flourishing of this capstone animal, whose role is directly linked to ecosystem regeneration. If we fail to secure this land, the entire ecosystem is at risk of contamination and continued degradation due to the proposed developments.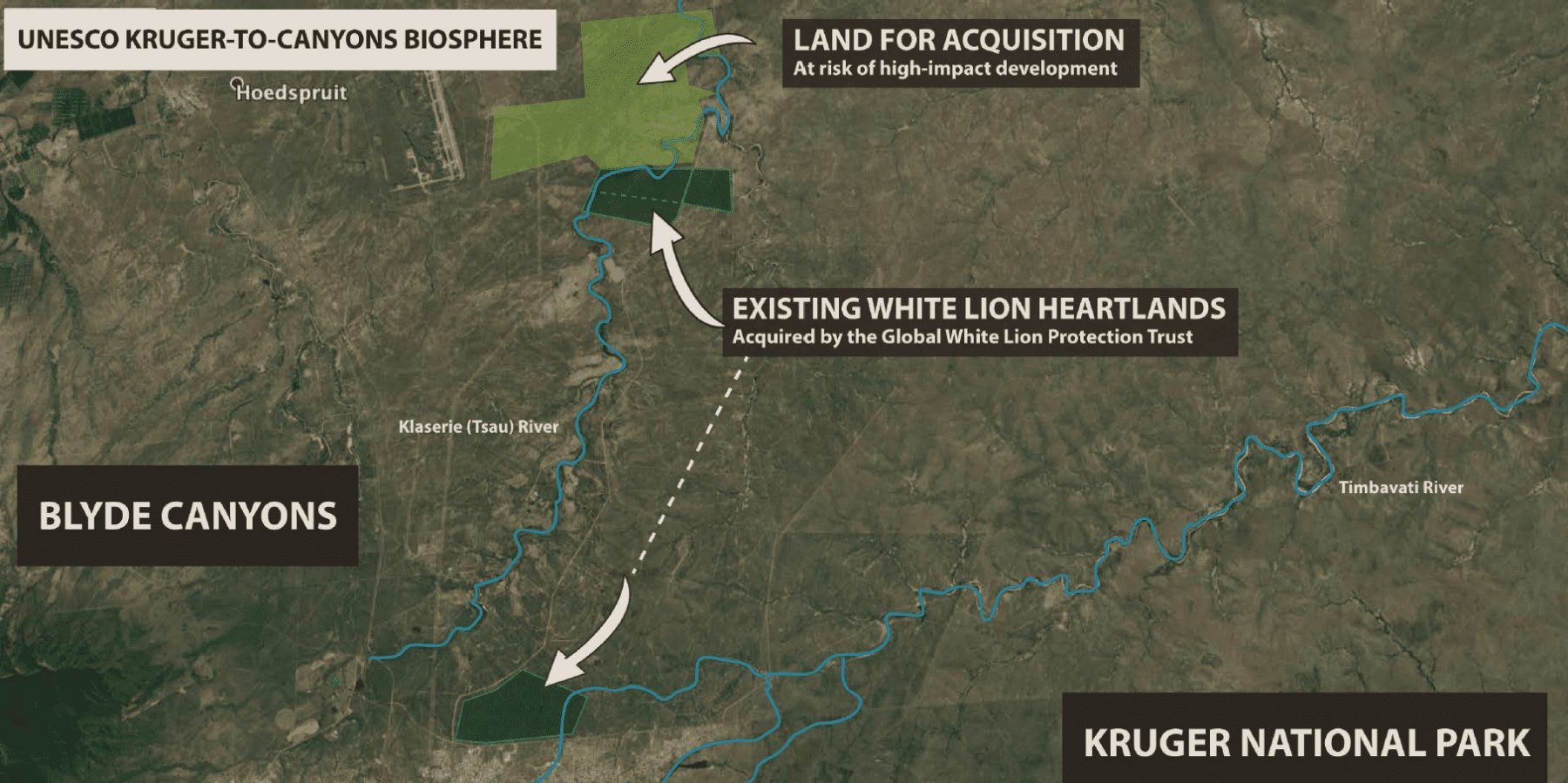 For more information, please fill out the form below
Disclaimer: Conscious Giving, Inc. is a Pennsylvania public benefit corporation, headquartered in Philadelphia, with a registered office in New York City. Conscious Giving, Inc. is legally independent of Conscious Capital, Inc. and Conscious Capital AG, and does not operate outside the United States. As a tax-exempt "public charity" as defined by the Internal Revenue Code (IRC) Sections 501(c)(3), Conscious Giving, Inc. is eligible to receive tax-deductible charitable contributions under IRC Section 170 and is qualified to receive tax deductible bequests, devises, transfers or gifts under Section 2055, 2106 or 2522. Therefore, contributions to Conscious Giving, Inc. are largely tax deductible to the extent allowed by law. No goods or services are provided by Conscious Giving, Inc. in exchange for contributions. Conscious Giving, Inc. only conducts charitable fundraising activities in the states where registration has been obtained and licensing is current. For additional disclaimers, please click here.